I love talking about music, especially when it comes to the 80's inspired style of Retrowave. I'd never heard of this genre until I stumbled across the NewRetroWave channel on Youtube.  NewRetroWave is a network that has the uncanny knack of finding the best in the Retrowave scene, and consistently serves up music that captures the stylish moody passion that was the 80's. And as a guy who graduated in '84, they are spot on.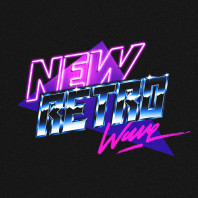 I mean, check out that logo! The sense of dedication to the style and spirit of the music is what makes this passion driven collective so special.
NRW is also expanding to include retro gaming and comic reviews. Did I mention they have some awesomely cool 80's styled shirts and art available?
Spoiler: When the Suzi animated series comes out, you can bet NRW will be the guys I go to for the soundtrack.
Over in my sidebar, you will see the Radio Cosmos playlist, which features a ton of great NRW gems. If you're a fan, check them out, and if you've never heard of Retrowave, give it a listen, you might like it 🙂