Tha True Original Gata Monique Dupree is such a unique individual, it's difficult to describe her in a single article.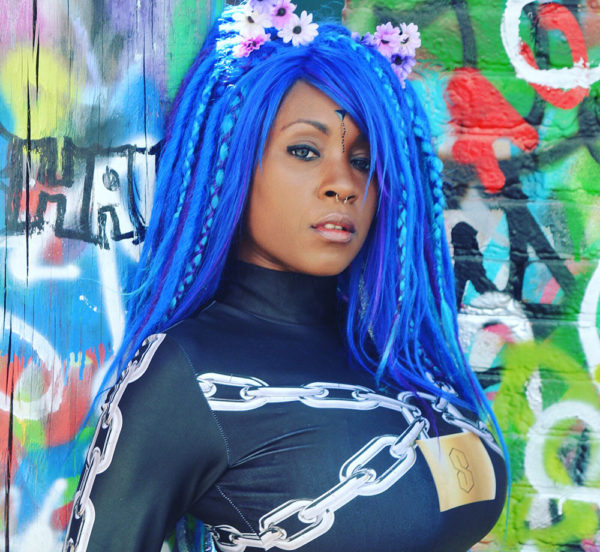 Monique has compiled an amazing career as an actress, appearing in over 60 films including American Gangster, Life Support, The Replacements.  Her IMDB listings goes on for miles, which is a testament to her professionalism. While being known as the First Black Scream Queen, I almost feel like that title is too limiting in talking about her talent and experiences.  I believe if she had been born 30 years earlier, she could easily have played in any of the classic Hammer horror films.  I would love to see her in a modern remake of the Karnstein trilogy.
Monique is a constantly evolving creative force with a fearless vision, an artist that continually strives to avoid complacency and pushes herself to learn and test new creative outlets.  Monique is not afraid to take risks, and she learns from the bumps along the way, as evidenced in her work with the House of Hardcore wrestling promotion.  (As a guy who used to wrestle in a local promotion, I know first hand how rough some of those bumps can be).  It's amazing to watch someone with such ethereal beauty go from fashion shoots to the wresting ring without blinking an eye.  I was lucky enough to get to briefly work with Monique and her husband Anthony St. Thomas (a talented author and artist in his own right!) on my indie horror film project (albeit remotely). It was so fun to work with such a genuine and talented team like the Dupree's.
Oh, and did I mention that she is also the Mom of 10 children?  That she also performs with a band and sings like an angel? Imagine doing all this work AND raising a family too.  I guess you can tell I'm a fan, but I believe we should point out those rare few that refuse to be pigeon-holed by the world.  The artists that take the uncomfortable risks and show us how to climb out of the complacency that we find ourselves mired in.  I love how she never lets the haters (and man, she draws the haters!) break her down.  She has such an elegant style and grace that you just don't see from celebrities these days.  I find Monique to be strong yet kind, razor sharp yet gracious, and in general a woman you can't ignore.
On a more serious note, one that usually gets glossed over in articles like this is the fact that Monique, as an African American female entertainer, faces not only dehumanizing objectification and sexism, but overt and institutional racism in both the industry and society.  While I can't understand what it means to be an African American woman, I can acknowledge that the struggle is real and has to be incredibly painful.  I served in the Army infantry, built munitions in the Air Force and worked as a bouncer in some of the roughest clubs in Texas. Even after all that, I don't know if I would have the strength to get out and grind daily for my art like Monique does.  Not when the deck is stacked against me every single day.
It's not her beauty, not her talent that I admire most. It's that strength, that never give up, you aren't gonna stop me and I'll bulldoze you if you try attitude.  That's the spirit I want to infuse my heroes with, the belief that we can rise above those trying to pull us down.  That we keep driving on everyday despite the barriers that ignorance and fear throws against us.  No matter what your opinion is on her art or style, her strength and continued grace in the face of such odds, that alone demands respect.
You can find Monique on the web at the Offical Site of Tha True Original Gata Monique Dupree, Tha True Original Gata Monique Dupree on instagram, and follow Tha True Original Gata Monique Dupree on Twitter.